Handel's Keyboard Compositions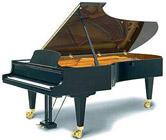 The collection of Handel's keyboard compositions were produced with the aid of modern technology involving a Digital Audio Workstation. The compositions were manually entered into Allegro 2002 which is music notation software with MIDI capabilities. The output of Allegro 2002 is a real-time MIDI stream which feeds GigaStudio to render the music using sound samples from an acoustic piano.
I play Handel's No. 2, Suite in F, HWV 427 and No. 5, Suite in E, HWV 430 but cannot play it at the proficiency as in the rendered productions. The pieces reflect my pace and expression which are controlled by altering the MIDI timing and volume levels through Allegro. Essentially, I made the pieces sound the way I would want to play them. They are my interpretation of the keyboard works.
It is intriguing to hear these 18th century compositions written for the harpsichord being produced with 21st century piano sound technology.
See my piano music page for other piano pieces that I produced with the same technology.
Back to Blog main page.