03-Nov-2010
Traffic Source Breakdown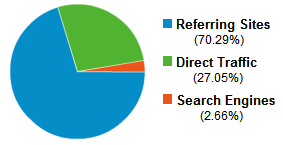 This is the breakdown of traffic sources From October 1 to November 8. As can be seen, the majority of traffic comes from referring sites while there is relatively little traffic coming from search engines. The traffic volume is fairly low as I continue to work on driving traffic to my website.
Google Analytics provided the above traffic analysis data.
The traffic coming from referring sites is due to:
The search engine traffic source will require SEO work to achieve greater traffic volume. Posting comments on other websites to establish backlinks to my website will continue to be worked to contribute to search engine optimization in addition to bringing referred traffic. Working the facebook activities will continue to drive traffic to my website in addition to establishing a network of new and returning visitors.
See Site Visitor Statistics for Google Analytics results for this site.
Blog Entries Listing
2010
Aug
Sep
Oct
Nov
Dec
2011
Jan
Feb
Mar
Apr
Jun
Sep
Oct
Dec
2012
Jan
Feb
Apr
May
Jun
Oct
Nov
Dec
2013
Jan
Feb
Mar
May
Jun
Dec
2014
Jan
Mar
Jun
Jul
Aug
Oct
Nov
Dec
2015
Jan
Feb
Mar
Apr
May
Jun
Oct
Nov
Dec
2016
Jan
Feb
Mar
Apr
May
Jun
Jul
Aug
Sep
Oct
Nov
Dec
2017
Jan
Feb
Apr
Oct
2018
Jan
Feb
Mar
Apr
2020
Mar
Apr
May